Expense Sharing
Optometrists practice in several different modes.  A large majority of optometry students surveyed indicated their preferred mode of practice as independent self-employed.  There are significant costs and management responsibilities associated with practice purchase and "cold startup."  Partnership is one alternative that can reduce upfront costs and management duties.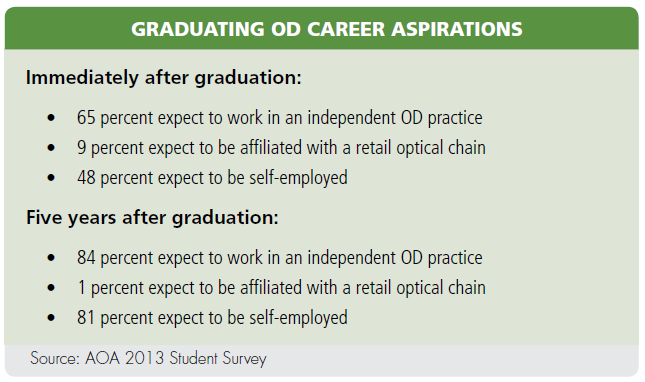 Working with a partner increases earning potential as well.  As stated in the AOA State of the Optometric Profession: 2013 report: "ODs in independent practices with two or more ODs earn higher net income than ODs operating alone.  Larger practices enjoy efficiencies in staff, space and equipment utilization.  They have greater buying power.  Management hours can be spread across a larger revenue base.  Larger practices are able to offer longer business hours – an important patient convenience."  Expense sharing combines the advantages of partnership with low upfront cost and the opportunity for mentorship.
Expense sharing generally entails an established optometrist providing a built out, staffed office stocked with equipment and frames.  The second optometrist obtains their own telephone number and joins insurance plans.  This type of arrangement can be called a practice association: An association of two or more practitioners who maintain independent practices pursuant to a shared expense agreement. The parties may share staff, equipment, a shared "identity" to patients.  Typically, each has their own separate patient base.
Expense sharing is quite low cost in comparison to purchasing a practice or starting cold.  Low startup costs result in positive cash flow for expense sharing.  On the other hand, a cold startup typically results in negative cash flow for the first year or two.  Purchasing a practice may or may not result in positive cash flow depending on the purchase price, practice loans, etc.  Expense sharing has the added advantage of lighter management duties when compared with practice purchase or cold startup.

We are looking for one or more optometrists interested in sharing expenses at our Huntington Beach location.  This is a great opportunity to join a growing practice in the prestigious Huntington Harbour community.  The work environment is very pleasant.  The office is equipped with the latest equipment including: Auto-refractor, visual field, retinal camera, OCT, corneal topographer, and electronic medical records.  The staff are friendly and professional.  Our location is close to the beach and easily accessible from PCH, 405 or 22.