Orthokeratology
Ortho-K (short for Orthokeratology) is a non-surgical procedure using specially designed contact lenses to gently reshape the curvature of the eye to improve vision.
This is a revolutionary non-surgical procedure that eliminates the need for glasses or daytime contact lenses! It improves vision by gently reshaping your eye while you sleep using specially designed contact lenses. You just put the specially fitted lenses in at bedtime, and when you awake, you will have clear, sharp vision for your waking hours.

Orthokeratology FAQ
Q: How do ortho-k lenses work?
A: Ortho-k shaping lenses are designed to temporarily reshape the central surface of the cornea systematically. Overnight wearing of the shaping lenses is surprisingly comfortable and most patients are unaware of their presence within a very short time after insertion.
Q: Is everyone a candidate for ortho-k?
A: While orthokeratology can help most individuals improve their vision (including those with certain types and amounts of astigmatism and moderately high myopia), the procedure is often most effective for those prescriptions falling within a specific range. Additional factors may include individual corneal rigidity and shape factors as well as an ability to wear contact lenses. A thorough consultation and examination using advanced computerized diagnostic instrumentation can easily determine if orthokeratology is right for you.
Q: How safe is ortho-k?
A: Ortho-k is safe when appropriately fitted and managed properly. Many people have been able to eliminate their dependence upon their glasses and standard contacts with no adverse effects. Unlike surgical procedures such as laser assisted in-situ keratomileusis (LASIK), radial keratotomy (RK), photorefractive keratectomy (PRK), and laser assisted subepithelial keratectomy (LASEK), the corneal tissue is not incised or vaporized by a laser. As with all contact lenses, proper lens care and handling must be performed to maintain eye health.
Q: Is ortho-k permanent?
A: After treatment, maximum results are achieved and retainer shaping lenses are worn to stabilize and maintain the new corneal shape. Failure to wear the shaping lens on an ongoing basis will result in a return to the pre-existing prescription.
Q: What are the risks of wearing lenses overnight?
A: The risk of infection associated with wearing contact lenses overnight are similar to that of wearing contact lenses only while awake. However with the right cleaning regimen, that risk can be minimized. These contact lenses cannot become lost behind the eye and it is rare for ortho-k shaping lenses to become decentered from the cornea.
Q: How long does it take for the process to stabilize and provide functional vision for the whole day?
A: It generally requires four to seven consecutive nights of wearing the shaping lenses to achieve the desired result. It may take somewhat longer for those with higher degrees of nearsightedness.
Q: Will I still have to wear glasses or contacts?
A: Once the desired myopic reduction is obtained, the final shaping lenses act as retainers to maintain that level. Regular contact lenses are not needed. Glasses may be needed for reading or other part-time use. During the initial treatment period, if unaided vision does not last a full day, the patient will be given soft disposable contact lenses to wear to maintain normal distance vision.
Q: Once the treatment phase is completed, how frequently will I need to wear the overnight retainer lenses?
A: Most people will need to wear the shaping lenses six to seven consecutive nights in order to enjoy good, unaided vision during the entire day. Patients with lesser degrees of myopia (nearsightedness) may find that wearing them every other night is satisfactory. However, this will be determined on an individual basis by the eye care practitioner.
Q: If the patient decides to return to wearing glasses, can vision be restored to its pre-treatment level?
A: The wearer's eyes will return to their pre-treatment nearsightedness after about two weeks. In order to provide good vision during this transitional period, patients are refitted with gas permeable lenses or disposable soft lenses while the corneas recover their pre-treatment shape.
Patient Feature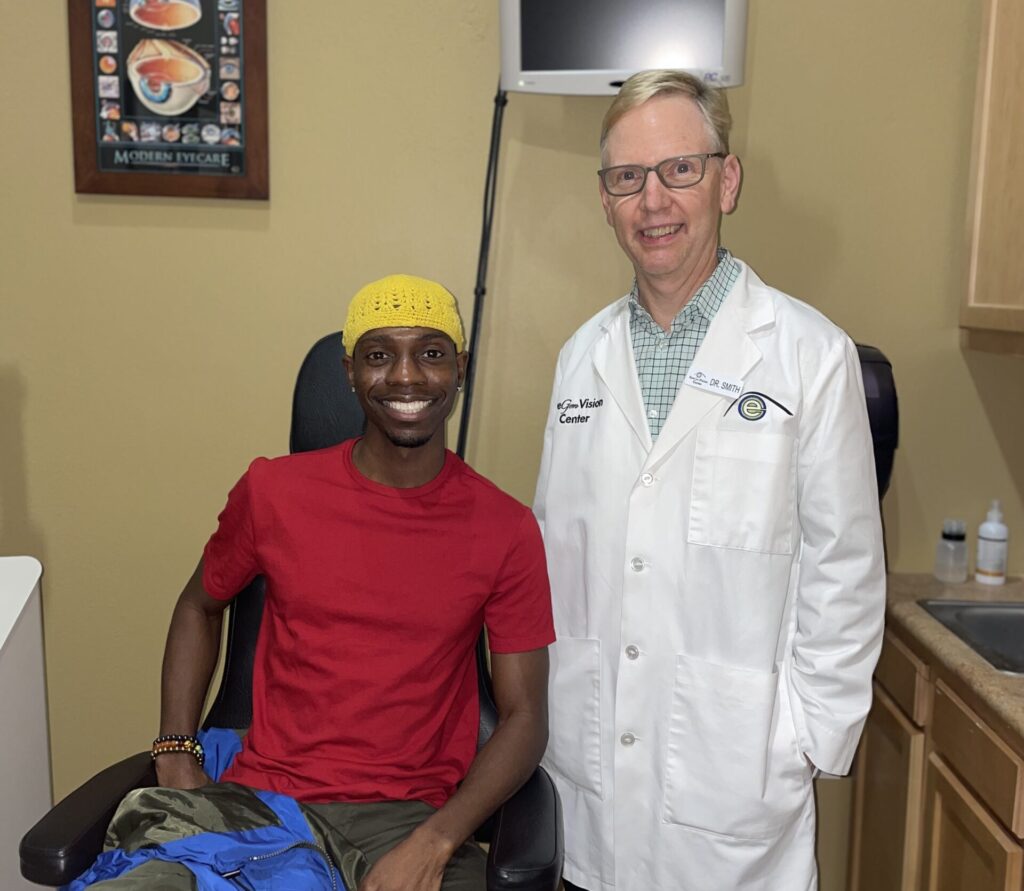 Meet Jabril Graves 
By day, Jabril is a talented IT help desk professional. After work, he is also a classical and jazz musician who enjoys swimming. He first came to our office to learn about Ortho-K lenses that would correct his myopia (nearsightedness) without the need to wear glasses or contacts. Here is a review from Jabril:
"I never thought I would be able to see clearly without wearing contacts or glasses but here I am with 20/20 vision, 3 days in a row. Thanks to Dr. Smith who specializes in contacts called Ortho-K. These contacts are worn overnight and when you take them off, you have 20/20 vision throughout the day(s). Now I can go swimming without worrying about my contacts getting lost in the water. A special thank you to Dr. Smith, Lyjiria, Christie, Madison, and Dr. Chang-Smith ❤️. You all are phenomenal! You treated me with kindness, respect and the best care.
Eyegen Vision Center is the best place for eye care!"
Dr. Smith is a member of the American Association of Orthokeratology and Myopia Control
For more information, please call 714-841-9888 for a free Ortho-K consultation.